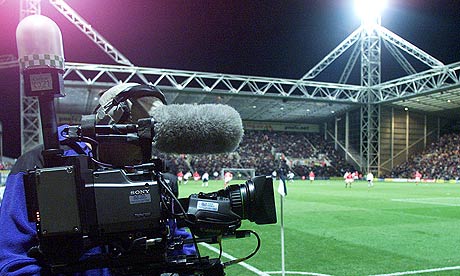 TV cameras are now as commonplace in football grounds as corner flags or red and yellow cards!
The FA Cup Final played at 3pm last season as had been the case for over the last 80 years if not longer.

However there was something different about this year's Cup Final and it caused uproar with FA Cup traditionalists.
An hour before that though Manchester United secured another league title with a win at Blackburn Rovers.

The tradition of the FA Cup Final being one of the biggest games of the season gone out of the window.
Third Round day becomes Third Round Long Weekend.

Last 20 years bigger matches have been moved to Sunday afternoons to be shown on TV and now the Third Round was spread from Friday evening to Monday night.

The FA Cup has well and truly been sold to the broadcasters.
Even the Champions League Final, once a midweek final has over the last two seasons been moved to a Saturday.

The reason why?

The great amount of money made out of showing matches on TV.
Games are now shown Saturday lunchtime and evening and Sunday lunchtime and 4pm.

They are being shown every day during the week as well. Domestic League and Cup matches on Monday, Tuesday and Wednesday, Cup games even on Fridays, Champions League games on Tuesday and Wednesdays and Europa League games being played on Thursdays. And of course, if your team play on the Thursday in the Europa League, there's no chance of the poor players being paid obscene amounts of money to play 90 minutes again on the Saturday. Oh no, move the game to the Sunday where it can feature on the box!

The fans who go to the matches are not thought of at all.
Arsenal v Newcastle United for example has been moved from

Saturday 10th March afternoon at 3pm to Monday 12th

at 7.45pm.

Those thousands of Geordies who originally planned to come down for this game who would have been able to leave Newcastle at a reasonable time on the Saturday will now have to either book the day off work on the Monday or just not go to the game at all.
Another case is Saturday 3rd March Arsenal were due to play Liverpool at 3pm.

Now the game has been brought forward to 12.45pm for Sky to broadcast the game!

This now means that the players will have to stay overnight and some of the fans will have to cancel travel arrangements too if they booked train tickets for example and go even earlier.
One thing that has changed in the last few years is streaming live coverage of matches on the Internet.

Whether you get Greek or Arabic commentary, it doesn't matter, you can still watch your team from your desktop.

A landlady of a pub in Portsmouth recently won the right to screen live coverage of Premier League matches live from the Internet directly to her pub at 3pm on Saturdays will no doubt change the game for the worse.
Pub landlady Karen Murphy celebrating the right to broadcast football matches from the Internet in her pub in Portsmouth
With an incredible choice of matches available on the TV alone, it is any wonder how some fans ever leave their armchairs!

Sky show Spanish football on Saturday and Sunday evenings so if you time it just right over a weekend you can watch about 7 live matches!

Almost immediately after the full time whistle has blown at the 3pm kick offs on a Saturday, a team of editors are furiously working away preparing an edited version of all the different matches that you can choose from by pressing the red button on your control.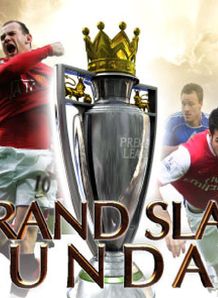 Fixtures when the big teams in the Premiership play against each other are played back to back glorified coverage referred to as Grand Slam Sunday and Super Sunday and adverts make this sound like the most exciting thing to ever happen in the history of football and are simply over the top!!
If you subscribe to ESPN then you can watch Dutch, German and Scottish football.

There's probably more but these are the three leagues at the top of my head that I can remember!
ITV showed back to back 3rd Round ties on the Sunday of the FA Cup weekend extravaganza and will do so this weekend as well.
BBC show Football League matches on Saturdays and occasionally Sundays too so there really is no end to the vast amount of matches to watch.
Finally, Sky show EVERY Champions League match in its entirety and you can choose between 8 games during the group stages!
Europa League football takes centre stage from early evenings on a Thursday.

You can have the joy of watching European also-rans pitting their wits against Champions League rejects and domestic Cup winners as well as the perennial fifth or sixth placed teams in the League.

You don't even need to win a competition to enter the Europa League as Stoke City have proved.
They lost to Manchester City in the FA Cup Final last season but because their opponents claimed a Champions League spot by finishing fourth, Stoke were given a Europa League place!

Farcical in my eyes but back to the topic in hand!
TV coverage in the past used to be limited to showing the FA Cup Final every year and the occasional International match.

Then in 1964, along came Match of the Day, showing highlights of a match played on the Saturday afternoon.
The Big Match came along on ITV and showed a match on the Sunday afternoon from the day before.

It wasn't until the late 80's that all matches from the Saturday were covered on Match of the Day.
In the 1985/86 season, no matches were shown on TV for the first half of the season as there was a dispute with broadcasters and the FA!

What would armchair fans across the country have done if this happened now?
Arsenal manager George Graham banned all TV cameras from Highbury in 1988 after they caught Arsenal midfielder Paul Davis elbowing Glenn Cockerill of Southampton in the face!

Davis got a lengthy ban and cameras did finally return to Highbury soon after!
Andy Gray and Richard Keys in their heyday where Andy Gray would move magnetic pieces across a board showing players movement before his wonderful Video machine came in and he could draw on our screen as he analysed the game!
When Sky beat rivals ITV for the new Premier League coverage in the Summer of 1992, Super Sunday and Monday Night Football came to our screens.

These games had fireworks and Sky cheerleaders before every game and were laughed at by the real fans who thought the game was becoming Americanised!
Gradually over the 90s, more and more Football crept onto our screens with games including the Victory Shield, the Home Internationals Under 16s tournament featuring on Sky on Friday nights from the late 90s.
Coverage of Scottish football came to Sky around this time as well along with more and more European football such as the Champions League, UEFA Cup and Cup Winners Cup (until it's demise in 1999).
Match of The Day 2 has come in to accomodate for the Sunday matches as so many people couldn't watch the games on Sunday and were missing out as they could only see Match of the Day on the Saturday evening. This weekend my girlfriend sounded surprised when I mentioned that I wanted to watch Match of the Day on Saturday and she asked me if it was shown on Saturdays. She had always thought it was shown on Sundays because that's the only time I can watch all the matches from the weekend. Even then I miss out on the match on Monday night as I don't have Sky!
Unfortunately, this has now gone wildly out of control and with the Internet taking over there seems to be the inevitable conclusion that soon, matches will be spread about on a weekly schedule and inevitably the fans who follow their teams home and away will suffer most.

The crazy few who would travel 300 miles for a 12.45pm kick off to watch their side lose 5-0 on a cold February Saturday lunchtime.
It's enough to leave you physically exhausted!!